COLOR SPOTLIGHT: TERRACOTTA
COLOR SPOTLIGHT: TERRACOTTA
Terracotta is one of my all time favorite colors. The Italian term literally translates to "baked earth" and that's exactly what it emotes. There's a richness and depth to the color as well as a earthiness and worldliness. It's totally timeless and can add so much to so many different styles of design. Here are four of my favorite ways to use the color, what's yours? Comment below!
1. PAINTED WALLS
The boldest way to use Terracotta is go for it and paint the walls of a room. It might seem scary but once applied to a big space, it actually feels like a neutral color. It brings warmth and sophistication to a room, and looks even better when hit with some natural light. Benjamin Moore's "Baked Terra Cotta" is one of the best out there.
2. TILED MOMENTS
A more traditional way to use the color is through tile. A classic hexagonal tile in a Spanish style house or on a patio instantly elevates the space. The color brings this homey and found quality, as if you discovered it years after the tile was laid. Don't be afraid of throwing some accent tile on a wall!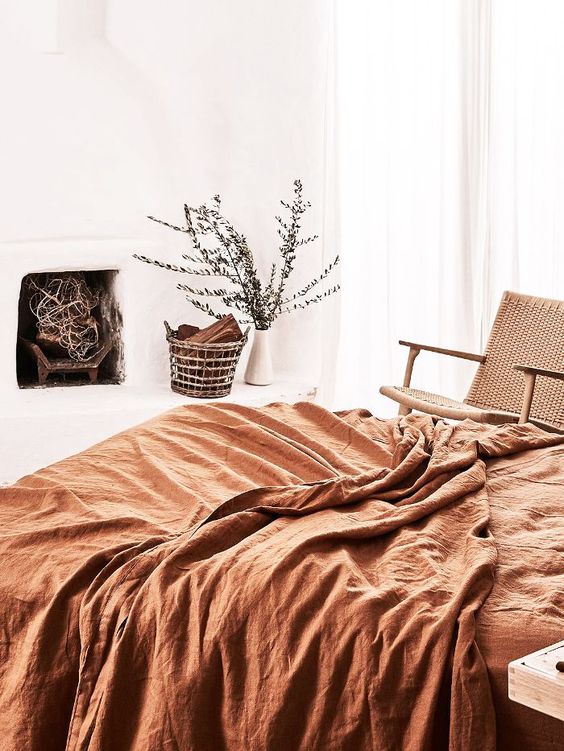 3. FABRIC
A less committal way to introduce Terracotta into your home is through fabric. The color translates particularly well with velvet, leather and linen. Just a splash of this rich color in any room will warm it up. How inviting does that bedding look?
3. DECOR ACCENTS
Terracotta's origin is earthenware, or clay. Why not pay homage to its history with some clay decor accents? Lighting, sculptures, pots, the possibilities are endless and the impact is inspiring. I love this mismatched ceramic chandelier and the sprinkle of pots on my pottery studio's patio.